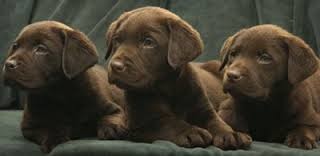 What's included with your puppy:
• AKC/UKC Full Registration
• Copy of executed Terms of Sale and Guarantee
• 26 month health guarantee
• Vet exams and Titers to determine when to vaccinate
• Dew claws removed and tails docked if Boykin
• Microchipped

Reservations:
Reservations, along with a $100 refundable* fee, for males or females from each litter will be taken prior to the litter being born . This money will be invoiced through Quick Books to your email address. Deposits starting at $400.00 (minus the $100 Reservation fee if paid) to hold your pick of a puppy are nonrefundable, unless your reserved puppy becomes unable to be sold due to illness, defects, etc. Deposit's are due 1 week after the puppies are born. Puppies will be chosen in the order that reservations are received and are contingent upon receiving the deposits within 1 week of the whelping of the litter. If you have placed a deposit on a puppy and become unable to take the puppy, you may put your deposit towards another puppy within 18 months of your deposit date. After 18 months, your deposit will be forfeited.
*Refundable if there is not a requested sex available for the pick or if there is no litter. The option exists that the Reservation fee can be applied to a future litter.

Payments:
Reservations and Deposits are paid thru a Quick Books Invoice sent to your email or they can be paid thru the Apps Venmo or Zelle.
​Final payments are less the Reservation fee and the Deposit and due before or at the time of pick up or 3 days prior to shipping. Cash and or cashier checks will be used for your balance when you pick up your pup.


Choosing Puppies from Our Litters
Deposit's are due 1 week after the puppies are born. Puppies will be chosen in the order that reservations are received and are contingent upon receiving the deposits within 1 week of the whelping of the litter. If we do not receive your deposit within 1 week of the whelped litter, you will forfeit your place in line and the next person will be allowed to pick. We will not allow visitors during the whelping and rearing period. We hope that you value the health of your puppy as much as we do and we hope that you fully understand and can appreciate our decision not allow visitors at this critical time in your puppies development and health. It is absolutely detrimental that we keep our puppies free of any airborne diseases and viruses. The health of our puppies is our # 1 priority not the Sale of a puppy. Information; birth order, weight and pictures of the puppies will be posted on our Facebook Page weekly. Puppies go to their new homes at 8 weeks of age. Once the actual pick up date is arranged, if something prevents you from getting the puppy at that time and we are asked to hold the puppy for a longer period of time, there will be an additional $10.00 per day boarding fee. Sliding Creek Labradors (SCL) provides all shots for the new puppy that it needs prior to pick up. If we are holding the puppy past 8 weeks for you and their next set of shots come due, we will take the puppy to get those shots but we expect you to reimburse us for that vet expense and a minimal transportation fee. Once you pick up your puppy the puppy should be taken to purchaser's veterinarian within 7 days of purchase. SCL has taken care to select a dam and sire that have physical and genetic clearances from the OFA, CERF, CNM, EIC, along with sound temperaments. A puppy that displays a health defect must have the defect documented by a licensed veterinarian for the said defect for SCL's veterinarian to review. Upon confirmation from SCL's Vet of said condition, Purchaser may return the puppy, registration and all his/her effects to SCL and receive a full refund. Any veterinary fees are the responsibility of the purchaser. Guarantee: The puppy is guaranteed until he/she reaches 26 months of age against any serious health defect. The guarantee will be the purchase price of the puppy applied to a puppy from a future litter, with defective puppy remaining with the owner or returned to SCL along with the registration papers transferred back to SCL. SCL does not pay any veterinary fees or any other associated costs such as shipping. Proof of defect and proof of spray or neutering by a licensed veterinarian must be sent to SCL. If the dog has been bred prior to obtaining OFA and CERF clearances, this guarantee is void.

Registration:
SCL certifies that this puppy is eligible for full registration under the Regulations of the AKC/UKC as a pure bred Retriever and will provide the proper forms for such registration. SCL reserves the right to deny any sale we feel would put a puppy in an unsafe environment. We raise our puppies to be loving animals and want the very best for them as they are each a part of our family while in our care and we love them like our own.