Please review the process for obtaining a puppy from Sliding Creek on our Client Questionnaire page.
Planned
Planned repeat breeding. Reservation list started contact me to reserve a puppy 864-314-5326
Due Date: March 1st, 2022
We will be doing a repeat breeding of this pairing in January 2023. The last breeding produced an exceptional litter.
Current
Sliding Creeks Son of Zeus (Zeus) - has been bred to -Big Creek's Amber Ale (Amber)
Date of Birth: November 6th, 2022
Sire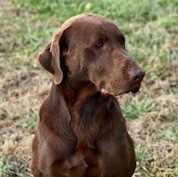 View Profile
Christmas puppies! All chocolate litter! Ready for nw homes 12/23/2022.