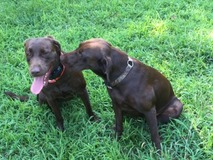 About Us
Sliding Creek Retrievers is owned and operated by Celeste. We are located in the upstate of South Carolina on 40 acres of rolling hills, pastures and woodlands. There is a creek running through the property that is spring fed and in one location the water slides down a large rock formation hence the name Sliding
Creek.
| | |
| --- | --- |
| Who We Are | We purchased the farm in 1992 as a horse farm and started breeding Hanovarians. At the same time we got our first Lab, Augie, who brought us logs in her mouth as if they where sticks. Then came Isabelle one and Isabelle two...both black English labs. We both couldn't believe how smart these dogs were. As the horse breeding business came to an end we bought our first Field Chocolate Lab, Star. |
And then our Journey began...and continues

Sliding Creeks Labrador breeding program was founded in 2014 with the arrival of a chocolate puppy named Star from Big Creek's Labs in Midville, Ga. We were so impressed with her we purchased another chocolate puppy 6 months later, Kona. And then it began...both females have been raised in our home they have been professionally trained. Both have been competed in HRC Hunt Tests; Star has her Seasoned Title and Kona her Started Title. Both dogs have proven to be exceptional in trainability, drive, intelligence and the desire to please. They are genetically superior and physically sound. We have begun a breeding program that will pass on these traits to the offspring and produce exceptional hunting, competition and family dogs.

In 2015 I wanted to step up our Breeding program a few notches and joined and continue to be a active member of AVIDOG Breeders College. We strive to produce puppies that are healthy and genetically sound. Our goals include producing Retrievers that are fearless, intelligent and loving, quick to learn, and able to excel in competitions such as Field Trials and Hunt Tests, be hunting companions and/or loving family pets. To aid in reaching these goals, we use the Avidog methods for breeding, puppy rearing, and puppy evaluation. These methods are state-of-the art and give our puppies the best possible start to their lives.
We raise quality registered AKC and UKC Retrievers with strong pedigrees that include National Field Champions, Grand Hunting Retriever Champions and Hall of Fame dogs. Our puppies are our main focus for the first eight weeks of their lives. We give our puppies individual attention on a daily basis, from birth, and we give them socialization with a variety of people and with dogs. We start our puppies house-breaking, introduce basic obedience including recall to a whistle. We also introduce them to crates and car rides. We expose them to birds, shot guns, retrieving and with appropriate weather, we introduce them to the water too.
During the period from three to sixteen days of age, our daily handling of our puppies includes Early Neurological Stimulation (ENS) and Early Scent Introduction (ESI). Early neurological stimulation has been shown to: improve cardiovascular performance, strengthen heartbeats, strengthen adrenal glands, increase stress tolerance, and increase resistance to disease.
We strive to make the best possible matches between puppies and new homes. We want all of our puppies and their homes to thrive. We use the Avidog Puppy Evaluation Test (APET) to evaluate our puppies and to help us help owners develop smart training plans for their puppies first year.
We treat our puppy homes like family and we are committed to our puppies and their homes. This is a long-term commitment. We expect to stay in touch with puppy owners for the life of their dog and beyond.
Health screenings for our breeding stock include: OFA hip & elbow exams, EIC, CNM, HNP, D Locus and PRA. We also test to ensure that our Labradors do not carry any dilute color genes such as Silver. We whelp 100% dilute free Labrador puppies. While we strive to produce the most physically sound puppies possible, despite our best efforts, we acknowledge that dog breeders are creating living beings and there is no way to produce perfect dogs. As a breeder, we believe it is our duty to take responsibility for the dogs we produce. We do this by warranting our dogs against genetic defects, providing a 26 month Health Warranty.

In 2019 we completed building our Whelping Kennel and our 10 indoor/outdoor kennel with a enclosed Airing/Exercise yard. These state of the art facilities has enabled us to expand our business to providing whelping services and boarding.